Pain is Inevitable; Suffering is Optional
The goal of Acceptance and Commitment Therapy (ACT) is to create a rich, full, and meaningful life while accepting the pain that inevitably goes with it. This is done by changing one's relationship to their symptoms in order to live a more value-driven life. Further, the goal is to accept what is outsideof one's control, and commit to taking action to enrich one's life. It can be summed up in one basic premise: pain is inevitable, but suffering is optional.
Oftentimes, trying to get rid of symptoms actually results in being more bothered by the symptoms. For example, try to not picture a pink elephant in your mind's eye. What happened? You saw a pink elephant. This is just what happens when we try NOT to focus on any particular thing!
Being too focused on symptoms impacts our ability to life a value-driven life. We're too busy and using all our energy on "symptom-reduction" rather than choosing to focus on what is meaningful in our lives, such as family, friends, relationships, advancing career, rest, self-care, and so forth. When we instead focus on our values, our symptoms can drift to the background, rather than take center stage.
ACT asserts that problems are essentially caused by two things: cognitive fusion and experiential avoidance. Cognitive fusion is when we become inseparable from our thoughts, and then our thoughts dominate our behavior. Experiential avoidance happens when we attempt to avoid, get rid of, suppress, or escape unwanted experiences (thoughts, feelings, memories, sensations, etc.).
Trying too hard to control how we feel simply gets in the way of a rich, full life. We can't do important, value-driven things if we are always trying to get rid of symptoms. Control is the problem, not the solution.
What can we do about this? Practice defusion to get stuck from our thoughts and gain distance from them. Defusion is taking a step back and seeing our thoughts for what they are: nothing more or less than words and pictures. As I like to say, look AT your thoughts, rather than FROM your thoughts.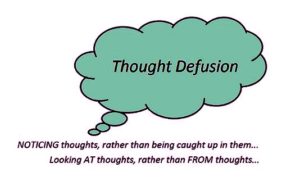 Here are some ways you can attempt to defuse from your thoughts:
Say "I'm having the thought that…"
Use a silly voice to say the thought
Sing the thought like a song
Repeat the thought nonstop for 30 seconds until it sounds like gibberish
Another way to defuse from unhelpful thoughts is to practice mindfulness. What is mindfulness? Mindfulness means paying attention with flexibility, openness, and curiosity. It allows you to be aware of your experience in the moment as opposed to being "caught up" in your thoughts. Mindfulness involves an attitude of openness; being curious about your experience rather than fighting with it. This is helpful because often times the more we try to fight the way we feel, the more we end up feeling it.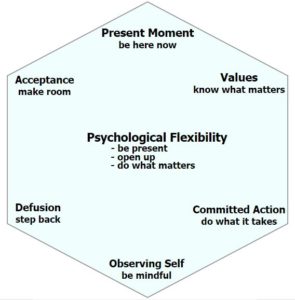 The goal of ACT is referred to as psychological flexibility, which entails being present, opening up, and doing what matters. An important facet of psychological flexibility is acceptance: allowing thoughts and feelings to be present, regardless of whether they are pleasant or painful.
The fun part of ACT (in my humble opinion) is valued living: doing what we want to be doing with our lives. What's important to us? What do we want to stand for? How do we want to behave and act on a daily basis? Our values are our compass; they guide our decisions and behavior. A good way to figure out what your values are is to imagine your retirement party or funeral — Who would you want to speak about your life and what would you want to hear them say?
Once you have figured out what your values are, then final step is to take committed action (effective action motivated by your values). One helpful way to do this are to make a public commitment; tell someone about it. This will create some level of accountability for you. Another thing you can do is create an action plan worksheet. Last, but not least, simply take the first, tiniest step. The first step is often the hardest, but if you can manage to get started, the rest will follow.
For more on Acceptance and Commitment Therapy, click here and here!